A strong set of tires is fundamental for any vehicle's performance. Tires that are worn down can be a serious safety risk and can even be attributed to 11,000 car crashes each year, reported by the National Highway Traffic Safety Administration. That said, it is essential you stay on top of your tires' maintenance schedule.
Fortunately, the service center at Pecheles Ford provides tire service near Washington, NC, that you can rely on. Whether you need to get your treads patched, tires changed, or wheels aligned, Pecheles Ford is here to help you care for your tires. Our certified employees will make sure your tires are strong and they're devoted to your satisfaction every step of the way.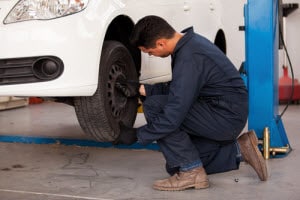 Presented here are some of the tire services we provide at Pecheles Ford:
Checking Your Tire Pressure
Correcting your tire pressure level is a bigger factor than you might think. Whenever tires deflate, your car's overall performance, safety, and fuel economy all suffer.
It's ordinary for tires to decline in pressure, but checking them no less than once a month will prevent them from losing too much air. We'll refill your tires as required and have you back on the go in no time at all.
Rotating Tires for Ford Vehicles
Rotating tires at factory-recommended time intervals will allow the treads to wear consistently. Moving your wheels diagonally, right to left, or back to front, extends the lifespan of your tires and hinders them from the loss of too much traction.
It's ideal to check out the maintenance schedule specific to your Ford, but we recommend having your tires rotated around every 6,000 to 8,000 miles. Whenever your Ford needs to have its tires rotated, come by Pecheles Ford to discover what we can get done for you.
Updating Ford Tires
It doesn't matter how vigilant you are with tire service, it is expected that they will have to be replaced at some time or another. Pecheles Ford has a sizable inventory of new tires when yours are too worn down, and we'll identify a set that is the appropriate fit to suit your vehicle.
Wheel Alignments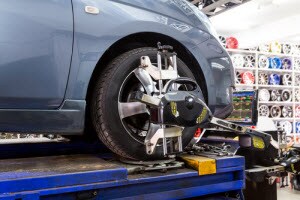 Your wheels will usually get misaligned as a result of going over potholes or bumps in the streets, eventually leading to uneven tread wear. If your steering wheel is shaking or your car is shaking, call and schedule an appointment at Pecheles Ford to check if your wheels are not in alignment. Our technicians will straighten them out in no time at all and complete additional tire maintenance procedures if needed.
Get Your Wheels Moving at Pecheles Ford in Washington NC        
You'll never regret making time for tire repair. Getting your tires looked at frequently at Pecheles Ford in Washington, NC, improves your car's performance and guarantees that your tires are healthy enough for your everyday driving demands.
At Pecheles Ford, our certified vehicle technicians give each customer the treatment and attentiveness they deserve. We'll make sure your tires are strong and sturdy, and we're willing to address any questions you have about maintenance throughout the process.
In the event that you must have tire maintenance, Pecheles Ford is here to assist you. Give us a call at (888) 508-8463 to talk with a service expert or schedule a service appointment throughout our business hours.