Are you in the market for a tough and capable pickup truck to help you along with your hefty workload throughout the Washington, Greenville, and beyond? The Ford F-150 has been a staple pickup truck that drivers have relied on over the years, but lately, the Toyota Tundra has been getting a lot of attention. If it were up to you, which truck would you ultimately choose?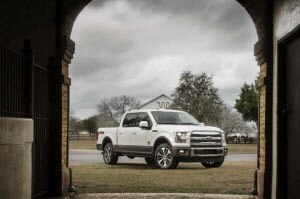 Our team at Pecheles Ford is here to help you decide which truck is best for you. We took all the features and technology drivers of Williamston and beyond need, so your decision is made easier. In our 2018 Ford F-150 vs. Toyota Tundra comparison, we'll be focusing on the crucial factors like power and performance, as well as towing and payload capacities. We hope this comparison of these prolific trucks helps you see which one is the right option for you to help with your workload.
2018 Ford F-150 vs 2018 Toyota Tundra Power & Performance
Choosing the right pickup truck isn't always about style; it's about power and capabilities. Both trucks come with engine options to help you figure out the amount of power you need to help you complete the task at hand. However, the Ford F-150 offers five engine options, compared to the two options that the Toyota Tundra offers. You'll also enjoy fuel efficiency with the 2018 Ford F-150.
In terms of the highest performance, the Ford F-150 produces the most power with its 5.0L V8 with 385 horsepower. The similar 5.7L V8 that comes with the Toyota Tundra maxes out at 381. For an exclusive engine, choose the Raptor trim level that boasts a 5.5L turbocharged V6, that puts out an incredible 450-horsepower and 510 lb-ft of torque. However, in terms of torque, the Ford F-150 takes a commanding lead with its 3.5L EcoBoost® V6, which delivers a best-in-class 470 lb-ft of torque. The same 5.7L V8 engine delivers the highest torque for the Toyota Tundra, but it still falls short by maxing out at 401 lb-ft. 
F-150 vs Tundra Towing & Payload Capacities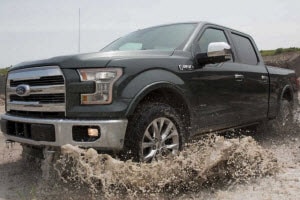 Towing and payload are both huge factors in determining which pickup truck is right for you. Of course, the towing and payload abilities are predicated upon the engine setup that you ultimately go with. Not surprisingly, these two trucks have wildly different abilities.
For the best performance you need, choose the Ford F-150. It offers best-in-class towing at 13,200-pounds and best-in-class payload of 3,270-pounds, when properly equipped. The Tundra simply can't compare when you consider its maximum towing capacity reaches only 10,200-pounds, and payload maxes out at 1,660-pounds. You just can't beat best-in-class!
Learning More About the 2018 Ford F-150
At Pecheles Ford, we had a blast throwing these two powerful pickups into the ring. However, in our 2018 Ford F-150 vs. Toyota Tundra comparison, you saw how the Ford F-150 overpowers the Toyota Tundra in performance, as well as towing and payload abilities. But why not learn more about the 2018 Ford F-150 by taking a test drive with us, we're sure you'll be blown away by the overall quality and value.
Schedule a test drive with us at Pecheles Ford, the dealership that's always proud to serve drivers like you in the Washington, Greenville, and Plymouth areas.