If you're a lover of muscle cars, and you can't wait to find one to stretch your legs around the Washington, Greenville, and New Bern areas, you may want to hold out for the 2018 Ford Mustang. The Ford Mustang has been an iconic muscle car since it was first introduced in 1962. But the 2018 model has a whole new set of tricks up its sleeve.
Our team at Pecheles Ford is going to give you a little taste of the 2018 Ford Mustang and what it offers. You'll gain enough insight to keep you eager until this vehicle hits our lot and you can get behind the wheel to give it a test drive. We'll start by taking a look under the hood.
2018 Ford Mustang: Engine Options & Performance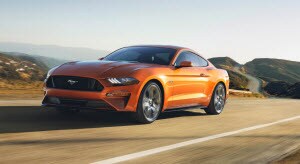 The Ford Mustang offers a variety of engine options similar to the 2017 model, only the 3.7L V6 is going away in place for some upgraded power. The 2.3L EcoBoost® 4-cylinder engine has proven its worth with its 310 horsepower abilities in last year's model, only the 2018 model will feature this engine with a little tune up to improve performance. The 5.0L V8 engine was also reworked to provide a necessary boost from its previous 435 horsepower and 300 lb-ft of torque ability.
Not only will the 2018 Ford Mustang feature upgraded engine options, but you'll also be able to choose your preferred transmission. The manual transmission was refurbished to provide an extra boost in torque. However, the 2018 Ford Mustang will also feature the new 10-speed automatic transmission, which helps improve performance and response while offering more power during acceleration.
Updated Style & Design
The 2018 Ford Mustang went through a bit of a makeover to simply add to the vehicle's already commanding appearance. The hood and front grille were remodeled to improve aerodynamics, while providing a cleaner and more athletic appearance. The headlights were also updated, featuring all LED lights and projector high beams.
As for the rear, depending on your engine option, you get a different exhaust. The EcoBoost® engine comes with a dual-tip exhaust. The high-powered V8 comes equipped with a quad-tip exhaust. The 2018 Ford Mustang also gets updated tail lights and a refined bumper to add to the vehicle's new appearance. Drivers also have the option of a performance spoiler to add to the vehicle's already aggressive appearance.
New Features & Technology
While the 2018 Ford Mustang got an updated look, it also comes with a variety of new systems for drivers. For the first time, the Ford Mustang offers optional driver-assisting technology features, providing ease, convenience, and security to your driving by utilizing front- and rear-mounted radar sensors. The Ford Mustang will also feature the new 12-inch digital LCD screen that offers different views of drive mode and memory functions for personalized drive settings.
Be the First in Line
At Pecheles Ford, we hope that you're as excited as we are for the 2018 Ford Mustang. While the release date for this impressive muscle car hasn't been stated yet, drivers can expect to see it hit the lot sometime around the fall. But stay in touch with us so you can receive important updates about this vehicle's impending release.
Pecheles Ford is always happy to provide updates and Ford incentives to drivers all throughout the Washington, Greenville, and New Bern areas.